Distribution
Jolly Technologies offers various solutions for the distribution industry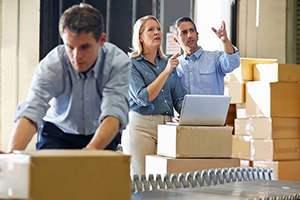 Managing a large inventory of items that is constantly changing can be a big job. Simplify your inventory management and distribution process with Label Flow from Jolly Technologies. Print custom barcode labels for easy scanning and integrate with your existing database system for easy implementation.
If you don't have a solid inventory database, step up to Asset Track and allow Jolly to provide full inventory tracking system with an easy to use check in/out process letting you know exactly what you have on the shelves at any given time. Asset Track includes all the labeling features of Label Flow integrated directly with our fully customizable database system.
Take a look at what Jolly Technologies can do for you. We offer free consultation by our experienced staff and fully-functional trials of our software, allowing you to test our features yourself live in your own facility. Give our sales team a call and tell us about your own, unique requirements – our software can likely meet them.
Barcode Labeling
Label parts and products and containers with barcodes or RFID.
Employee ID Cards
Issue professional ID Cards to your permanent and contract employees.
Inventory Management
Keep track of inventory levels of products within your distribution.
Time and Attendance
Accurately track time spent at work by temporary as well as field staff.
Visitor Management
Manage visits to your facility by registering visitors and maintaining visit logs.