Brivo and Jolly Partner to Provide Integrated Access Control and Visitor Management Systems
Jolly integrates Lobbytrack with Brivo Online Access Control System
BETHESDA, MD and SAN CARLOS, CA – Dec. 21, 2010 – Jolly Technologies, the world's #1 identity software company, and Brivo Systems LLC, the leader in Web applications for access control and security systems, today announced that Brivo's ACS WebService® Software as a Service access control solution has been integrated with Jolly's Lobbytrack visitor management software.
The integration will allow customers to issue access control credentials directly from the Lobbytrack visitor management system and assign credentials to visitors, contractors, and employees. The implementation is seamless and configuration requires only the entry of the customer's Brivo account name and password into the Lobbytrack system.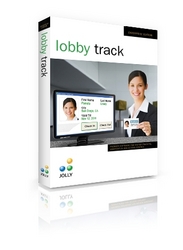 The Lobbytrack visitor management system accommodates the fast registration of visitors through a driver's license scan and a watch list check. A custom visitor badge is automatically printed, the visitor's host is notified, and a log of each visit is recorded. Through this new integration, access cards may be distributed to specific visitors through a simple card number entry during the registration process. The visitor's information and access group are automatically sent to the Brivo access system, so front-desk receptionists or security personnel aren't required to log into the access control system to assign credentials.
"Both Jolly and Brivo take the extra steps to provide exceptional customer experience within our respective products. This is very apparent in this integrated solution," said Kurt Bell, VP Sales & Marketing at Jolly. "The enrollment process requires only the entry of the access card number which can be automated with an electronic reader; those with card numbers are sent to Brivo's system, those without are treated as regular visitors. It doesn't seem possible to have a simpler solution. It has been a pleasure working with Brivo and we look forward to mutual success with the new integrated system."
"Our cloud-based access control solution is a perfect fit for the Lobbytrack system, because customers need only provide their Brivo credentials and the integration works," said Steve Van Till, Brivo President and CEO. "No on-site integration is needed, so the integrated functionality is available immediately, on demand."
The integrated product will be distributed by Jolly and their network of dealers. Brivo ACS WebService is sold through Brivo's own Authorized Resellers.
About Brivo Systems
Brivo Systems LLC, is an online physical access control system provider for organizations that need to protect and remotely monitor buildings and perimeter entry points using Internet and wireless technologies. The company's hardware products and software services enable businesses to control physical access to offices, warehouses, remote/unmanned buildings, or sensitive areas such as computer rooms, where real-time control and accountability of entry are important. The company's Web-hosted solutions are based on open technologies that connect dispersed facilities to the Internet using secure, wide-area communications. For integrators, Brivo provides simple installation and one-hour end-user training.
Brivo is a wholly owned subsidiary of The Duchossois Group, a privately held holding company, headquartered in Elmhurst, Illinois, which owns AMX, The Chamberlain Group and Milestone AV Technologies. Duchossois also holds strategic interests in Churchill Downs, Inc. (NASDAQ:CHDN), and a number of other diversified businesses.
About Jolly Technologies
Jolly Technologies, founded in 2000, develops and distributes a suite of secure identification software products, including ID Flow, the world's #1 identification software, Lobby Track visitor / entry tracking software, access control software, and a variety of other custom security products. As the recognized leader in the rapidly growing secure identification market, Jolly Technologies is partnered with the industry's largest hardware manufacturers to offer complete solutions through our channel partners. Based in San Carlos, California, Jolly Technologies is one of the world's fastest growing software companies. For more information, visit www.jollytech.com or call toll-free 1-888-25-JOLLY.
# # #
© 2010 Jolly Inc. All rights reserved. All other trademarks are the property of their respective owners.