Jolly and MK Data Services Announce Partnership to Check Visitors' Backgrounds
Lobbytrack integrated with denied parties screening to ensure federal and international rule compliance
COLUMBIA, MD and SAN CARLOS, CA – Nov. 10, 2010 – Jolly Technologies and MK Data Services today announced the integration Jolly's Lobby Track with MK Data's denied parties screening lists. The combined products allow users to quickly screen visitors against comprehensive international lists of red-flagged, sanctioned and debarred trading partners so that compliance with federal and international rules and regulations is maintained.
Visitors, contractors and employees are enrolled in Jolly's Lobbytrack System through a fast passport or driver's license scan. Lobbytrack logs the registration, checks the visitor against MK Data Services watch lists and potential matches are presented should they occur. E-mail notifications can be sent immediately to designated security personnel and authorities. The Lobbytrack system keeps a record of each visitor, logs each entry and issues visually expiring visitor passes.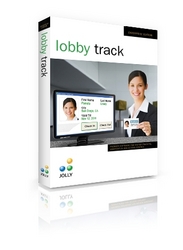 MK Data's denied parties list sources include: U.S. Department of Commerce Unverified/Red Flagged List; European Union Sanctions List; United Nations Security Council Sanctions List; Japanese METI List; UK WMD List; Canadian Restricted Entities List; Australian Consolidated List; World Bank Debarred/Ineligible List; Swiss Restricted List; and FBI Most Wanted Lists among others.
"Compliance with federal trade regulations through visitor screening has been a growing request from our Fortune 500 customers" said Kurt Bell, VP Sales and Marketing for Jolly Technologies. "We're very pleased to have chosen MK Data Systems to deliver this service. Their comprehensive list not only strengthens our Fortune 500 position, but also provides solutions for foreign multinational corporations seeking trade compliance."

"We like how seamlessly Jolly has integrated our denied party screening into their visitor registration process," said, Ken Harris, Managing Partner for MK Data Services. "The receptionist scans a credential to register a visitor. The information is immediately transferred to our online service; We return the results which are displayed on their monitor within seconds. It's an excellent example of how to integrate our web service with 3rd party developed solutions."
New free trial downloads of version 5.0 that support the integration may be found at www.jollytech.com and are available to dealers in Jolly Technologies' Partner Zone.
About MK Data Services
Founded in 1991 MK Data Services has built a reputation and gained acclaim as a company that provides exceptional customer service, top-notch solutions and the best business value in the industry. Its mission is to provide the services and solutions necessary to ensure clients are protected and compliant with all of the necessary laws and regulations. MK Data Services is based in Columbia, Maryland. For more information, visit www.mkdataservices.com or call 1-410-992-3282.
About Jolly Technologies
Jolly Technologies, founded in 2000, develops and distributes a suite of secure identification software products, including ID Flow, the world's #1 identification software, Lobbytrack visitor / entry tracking software, access control software, and a variety of other custom security products. As the recognized leader in the rapidly growing secure identification market, Jolly Technologies is partnered with the industry's largest hardware manufacturers to offer complete solutions through our channel partners. Based in San Carlos, California, Jolly Technologies is one of the world's fastest growing software companies. For more information, visit www.jollytech.com or call toll-free 1-888-25-JOLLY.
# # #
© 2010 Jolly Inc. All rights reserved. All other trademarks are the property of their respective owners.