Jolly and Opticon Announce Technology Partnership
Opticon partnership extends Jolly's event management and attendance tracking capabilities
SAN CARLOS, Calif. – June 17, 2010 – Today Jolly Technologies and Opticon announced a new partnership that will extend both companies presence in the event management and attendance tracking markets. The integration of the two companies' products will allow for remote recording of facility entry – information is collected at entry and data is uploaded into central logs. The integration is part of Jolly's recent Release 5.0 that facilitates the registration, credentialing and tracking of people with editions targeted at attendees, students, employees and contractors.
"We investigated several options before making the decision to partner with Opticon," said Sandeep Jolly, President, Jolly Technologies. "It was critical for us to find a simple device that was easy for anyone one to use with price points favorable to our wide range of markets. We were impressed with Opticon's technical abilities, sleek, compact product design and marketing presence."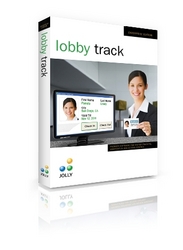 With this integration Lobbytrack users are able to walk around locations such as conference halls and classrooms with a mobile Opticon barcode scanner, scan up to 15,000 attendee or student cards on location, then, load the scanned data into Lobbytrack at a later time. This system offers an ideal portable solution for locations where it is not practical to have networked workstations.
"We're always looking for strong technology partnership," said Steve Gibbons, Channel Manager of Scanning Technologies, Opticon. "We are excited by the quality of Lobbytrack and the many new markets we will be able to reach with Opticon scanners through this integration. The OPN-2001's discreet size and extreme simplicity lends itself superbly to the Lobbytrack product. Users will find themselves using the OPN-2001 with very little training and enhancing their daily activities very swiftly."

Jolly Technologies has integrated Opticon's OPN-2001 handheld barcode scanning device into their line of Lobbytrack products. Attendees and students will present a badge or ID card upon entry and the barcode will be scanned using the Opticon scanner. Using Lobbytrack's new batch check in functionality, the data from the scanner is imported and Lobbytrack's logs will reflect who checked in and when. Lobbytrack can also report on who failed to check in. The Opticon device will be an optional add-on to Lobbytrack Enterprise, Lobbytrack Event Management and Lobbytrack School Tracking Editions.
New free trial downloads of version 5.0 may be found at www.jollytech.com and are available to dealers in Jolly Technologies' Partner Zone.
About Jolly Technologies
Jolly Technologies, founded in 2000, develops and distributes a suite of secure identification software products, including ID Flow, the world's #1 identification software, Lobbytrack visitor / entry tracking software, access control software, and a variety of other custom security products. As the recognized leader in the rapidly growing secure identification market, Jolly Technologies is partnered with the industry's largest hardware manufacturers to offer complete solutions through our channel partners. Based in San Carlos, California, Jolly Technologies is one of the world's fastest growing software companies. For more information, visit www.jollytech.com or call toll-free 1-888-25-JOLLY.
# # #
© 2010 Jolly Inc. All rights reserved. All other trademarks are the property of their respective owners.