Jolly Launches Three New Lobbytrack™ School Editions
Lobbytrack 5.0 ideal for managing school attendance, tardiness, visitors and events
SAN CARLOS, Calif. – June 15, 2010 – Today, Jolly introduces a new product line to track and manage who goes where on K-12 and college campuses with the public release of Lobbytrack School Tardy Edition, School Visitor Edition and School Complete Edition.
The Lobbytrack School Editions allow schools to: register, approve and badge campus visitors; process tardy students quickly and curtail that behavior; record faculty time and attendance; records student attendance; and verify event attendance. Student ID card production and evacuation reporting are included features."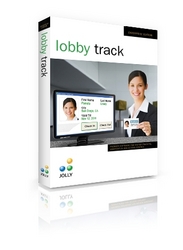 "With continuing economic cutbacks, there are lower faculty/student ratios than ever before. There is less supervision and school safety and student behavior have become more serious issues. Providing efficient tools to manage these things is more important than ever," says Kurt Bell, VP Sales and Marketing. "Learning happens most effectively when there's peace of mind for the students, faculty and parents. Jolly's school safety products ultimately change how people act and how they feel."

Lobby Track School Tardy Edition allows for fast processing of student tardiness through a student ID scan or name look up with instant tardy slip printing. Penalties may be automatically assigned and can vary with the number of times tardy. A parent can be notified of the offense immediately by e-mail.


Lobby Track School Visitor Edition provides for the ability to scan a visitor's driver's license, check them against a national sex offender list and local watch list, notify officials of a violation, take a photo, and issue a time expiring visitor badge. All activities are logged and a visitor's history is readily available.

Lobbytrack School Complete Edition includes the Tardy and Visitor Edition features as well as many options for tracking attendance of students, faculty, volunteers and visitors on campus and at events. In addition, Jolly has released complementary Scan Station and Reports Only Editions and has integrated with affordable handheld scanners for recording attendance.

New free trial downloads of version 5.0 may be found at www.jollytech.com and are available to dealers in Jolly Technologies' Partner Zone.

About Jolly Technologies
Jolly Technologies, founded in 2000, develops and distributes a suite of secure identification software products, including ID Flow, the world's #1 identification software, Lobbytrack visitor / entry tracking software, access control software, and a variety of other custom security products. As the recognized leader in the rapidly growing secure identification market, Jolly Technologies is partnered with the industry's largest hardware manufacturers to offer complete solutions through our channel partners. Based in San Carlos, California, Jolly Technologies is one of the world's fastest growing software companies. For more information, visit www.jollytech.com or call toll-free 1-888-25-JOLLY.

# # #

© 2010 Jolly Inc. All rights reserved. All other trademarks are the property of their respective owners.