Jolly Announces the Release of Lobbytrack™ 5.0
Lobbytrack 5.0 loaded with advanced functionality
SAN CARLOS, Calif. – May 25, 2010 – Today Jolly Technologies announces the public release of Lobbytrack version 5.0. With this release, Jolly introduces several new Lobbytrack editions designed specifically for access control integration, event tracking and school tracking. Visitor, contractor and employee management functionality has also been greatly extended.
"The new Lobbytrack product line provides optimal solutions tailored for real-world applications, allowing Jolly customers to purchase the system they need, at a price they can afford," says Kurt Bell, VP Sales and Marketing.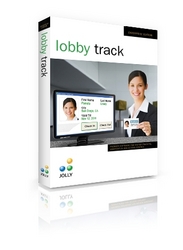 The technical highlights of version 5.0 include a new architecture to support databases with massive amounts of data; direct integration with access control systems; opening the product to third party integration; hand-held scanner integration; and a wealth of other new capabilities.
"Lobbytrack 5.0 is the result of more than a year of intensive development and its features are a direct result of customer and dealer driven surveys and interviews," said Brett Changus, VP Engineering. "With Lobbytrack 5.0, we deliver new features that customers have long desired while also dramatically improving our back-end database performance and streamlining popular tasks. We have been lucky enough to work with some of the largest organizations in the world and the result of that work is a very mature product with an unmatched feature set."
Version 5.0 includes: new database architecture capable of supporting billions of records, new Access Control Manager to support integration with access control products including Lenel, Brivo and AMAG with more to follow soon; new flash camera support, face finding capability, auto face cropping and other image management improvements; new integration with handheld scanners for managing attendance; multiple printer support; new onscreen keyboard and other kiosk improvements; definable evacuation reports; additional watch list selections; and new watch list violation e-mail notifications.
Lobbytrack is now available in several new editions to support specific markets and to give customers more configuration options. The editions for visitor, employee, contractor and membership management include: Small Business, Corporate, Enterprise and Access Control. Two editions have been released for the event management market: both time-limited and unlimited Event editions. Two new editions, Scan Station and Report Station, are available as add-ons. Jolly will announce further editions that service the education market shortly.
New free trial downloads of version 5.0 may be found at www.jollytech.com and are available to dealers in Jolly Technologies' Partner Zone.
About Jolly Technologies
Jolly Technologies, founded in 2000, develops and distributes a suite of secure identification software products, including ID Flow, the world's #1 identification software, Lobbytrack visitor/entry tracking software, access control software, and a variety of other custom security products. As the recognized leader in the rapidly growing secure identification market, Jolly Technologies is partnered with the industry's largest hardware manufacturers to offer complete solutions through our channel partners. Based in San Carlos, California, Jolly Technologies is one of the world's fastest growing software companies. For more information, visit www.jollytech.com or call toll-free 1-888-25-JOLLY.
# # #
© 2010 Jolly Inc. All rights reserved. All other trademarks are the property of their respective owners.