Eventleaf
Eventleaf is developed by Jolly Technologies, which has been around since the year 2000. It is an all-in-one in-person event platform with easy-to-use virtual event features. The software is used by thousands of corporate clients, small and medium businesses, non-profit organizations, and educational institutions. It has the highest customer ratings on G2, TrustRadius, and other software review websites and is one of the most affordable and easiest to use in-person event software.
Price: Free to use for up to 100 attendees per year, and $1 per attendee from there on.
Biggest + Extremely intuitive and user-friendly.
Biggest − Marketing features are not the best in the world.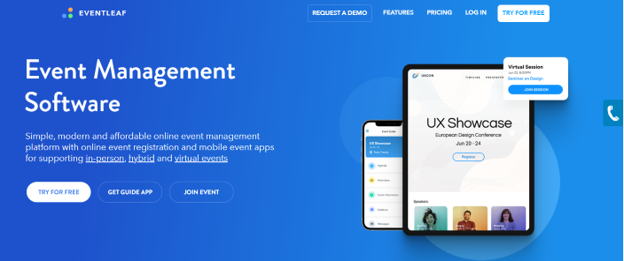 Cvent
Cvent is a well-established player in the in-person event management space, with comprehensive features and powerful capabilities to manage in-person events of all types and scales. The app has received a large number of positive customer reviews, although many users seem to think it has a rather steep learning curve and is not user friendly. Nevertheless, Cvent has more than 190,000 active users and can be a great pick for managing in-person and hybrid events in the post-coronavirus world.
Price: Not known. You'll need to contact Cvent to get a quote.
Biggest + Extensive platform with all the bells and whistles.
Biggest − May not be the most user-friendly app out there.
Aventri
Aventri is another well-established in-person event platform dating back to 1998. In the wake of the pandemic, Aventri had to reposition itself as a hybrid and virtual event platform and hurriedly added virtual features. However, it is still a great software for planning in-person and hybrid events. Aventri was acquired by Meetingplay in 2022 and now goes by the name of Stova. Most users find the app easy to use, though some have reported difficulties with finding and using certain features. The price is on the higher side and the app is geared for big ticket events as per some user reviews.
Price: Not available on their website.
Biggest + Excellent reporting features.
Biggest − Unclear pricing. Reviews indicate that many essential features cost extra.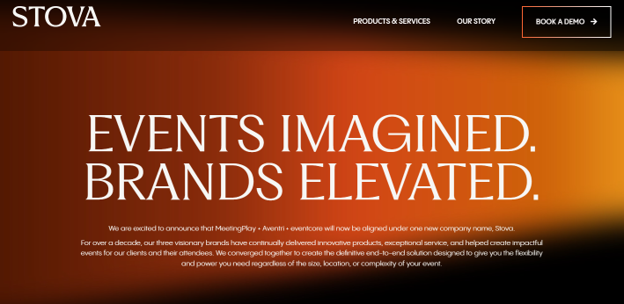 In Conclusion
The luster of online events seems to be fading away as the restrictions are lifted and people get back top business as usual. Online search trends depict that event managers are searching for in-person event software. On the other hand, webinar and virtual event registration rates are declining. The in-person event apps that we have reviewed above also have virtual event capabilities. We hope that one of them will be just perfect for managing your upcoming in-person and virtual events 2023.
# # #