RFID Asset Tracking System
Part No: AT8-SYS-RFID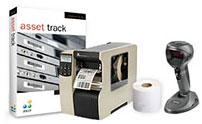 Included in System
Asset Track Premier
Zebra R110xi4 RFID Printer
Asset Labels
Symbol RFID / Barcode Scanner
Suggested Upgrades
RFID Asset Tracking and Label Production System
Easily track all assets in your facilities with the RFID Asset Tracking System. This complete system provides everything you need to get started printing and tracking assets using RFID labels and tags. Record supplier and user information. Track where assets are located. Scan manufacturer barcodes or produce barcode labels directly from Asset Track.
Track asset locations —  If you have an inventory or stock for your company, then you know it's important to keep careful track of everything coming and going from your facilities. Jolly Technologies makes it simple to do this with Asset Track.
Fast check-in / check-out — Asset Track makes tracking simple with its easy to use interface and speedy check-in / check-out process. Tracking your equipment and stock, whether you're selling it or loaning it out to employees or clients for specific uses is quick and hassle free when logging with Asset Track. Asset Track can even create custom barcode labels for everything you have, making check in and check out fast with quick scans.
Download the free trial — For your asset tracking needs, rely on Jolly Technologies. Download the trial or get more information today by contacting our sales team.
Feature Highlights
Register and track assets
Print asset tags with barcodes and RFID
Manage asset database
View logs and reports
Product Details
Platform: PC
License: Single User
Media: Download
Product Info: Click Here
System Requirements
Windows Vista or newer
.NET Framework 4.5 or greater
1 GHz or faster x86 processor
2 GB RAM recommended
512 MB of available disk space
Installation Support Plans
Receive up to one hour of basic installation support and product training.
Receive up to three hours of installation support and product training.
Maintenance Plans
Receive technical support and product updates for free and protect your investment in case of hardware failure.