Aviation, Aerospace and Defense Trade Shows
Invite, register, sell tickets and packages, and track attendees at trade shows
When you host an event, you set the expectation level for trust and confidence. You need a solution that is reliable, secure and appropriate to your conference. With Eventleaf™ event registration software you have control over the data. The flexibility of the software allows it to be customized to fit your needs; giving you the tools you need.
With quick onsite registration times and online registration, our software easily manages your event registration. Customizable logs and reports help you spot trends or collect specific information. Eventleaf will help your security team keep track of who is where in the event of an emergency.
Eventleaf comes with a variety of tools and can connect to Jolly Events our cloud based event registration platform for added features such as customizable themes for events, email invitations, ticket and package sales. Contact us today for a free trial of Eventleaf or use Jolly Events to create an event online for free.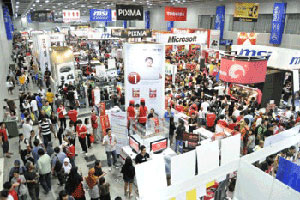 Register, Badge and Track Attendees
Scan business cards of ID to register
Print personalized name badges
Instant barcode check in
View attendance reports
Explore Eventleaf Desktop
Invite, Register and Collect Payments
Create personalized events
Send email invitations
Sell tickets and packages
Collect desired personal information
Explore Eventleaf Online